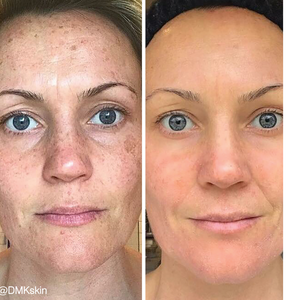 "I can't believe the change in my skin!"
I have been to many spas over the years but the time Elle spent reviewing my skin and explaining what it needed and how it had ended up with the issues it has was a first for me.
Her knowledge goes well beyond the usual beauty therapist. I had an enzyme treatment and after only one treatment I can't believe the change in my skin! Issues I have had for so long and tried so many treatments to help are already being reversed and my skin looks amazing. I also had an eyelash perm and tint and can't believe the difference this procedure has made to opening up and emphasising my eyes. I really liked the way that although Elle spoke about the benefits of the DMK products there was no hard sell at the end - it was left open to me as to when and if I wanted to try the products.
Looking at my skin a day later the products have achieved results beyond my expectations and I will be switching to the DMK products in the future. The service was fabulous and I can't wait to visit again and to see continued improvement in my skin.
"Immediate change to my skin!"
Just thought I would let you know how great my skin felt after having my DMK enzyme therapy treatment - that same morning, my skin was very red and tight, from being so dry. My skin had changed from red to skin tone in colour, and the tightness had disappeared - I could still feel that pulsating sensation even after the treatment.
Michelle did a fantastic job, advising me of how I would feel during the treatment, and made me feel very comfortable. She also advised me that if I had plans to go out I could simply apply my makeup on top of the products. Truthfully, I had no intention of going out however that quickly changed after my treatment.
Looking forward to my next treatment tonight!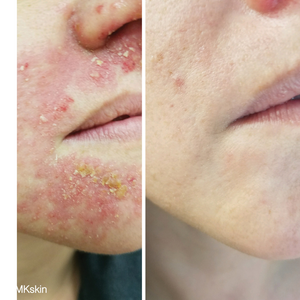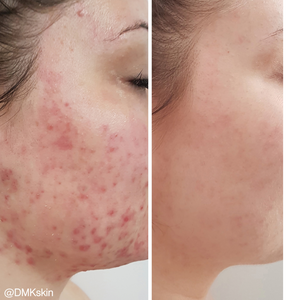 "Couldn't recommend highly enough!"
Just had the most heavenly facial. The therapist was not only a delight but extremely good at what she does (brilliant scalp massage!!!) Couldn't recommend highly enough!!
"Best place, especially if you suffer from acne"
Hands down shut the gates! Heavenly Retreat is the best place, especially if you suffer from acne! Helen and the team are amazing at what they do, they actually know what they're talking about (unlike other beauticians I've been to) and took care of me the day I walked in.
I emailed Heavenly Retreat a couple of months ago asking for the best facial treatment for acne and was immediately contacted by Helen recommending the enzyme package followed by the most in-depth explanation of what was happening to my skin at the time. After a few treatments along with home facial routines using DMK cosmetics, my face completely transformed.
I have never felt more confident with my smooth and glowing skin. Honestly, the price is definitely worth its value! The team are absolutely lovely and I would never leave this place.